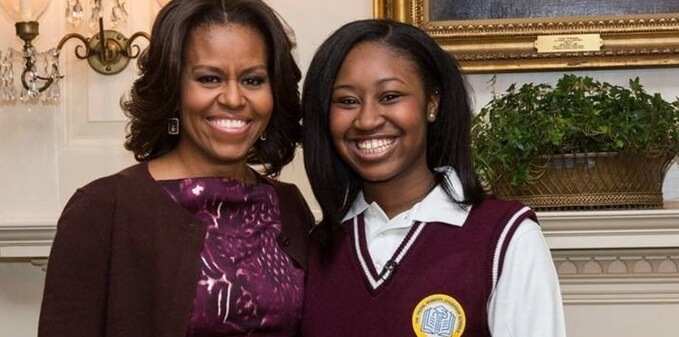 This weekend, Tina Brown is hosting the Women in the World Summit, a three-day event that brings together world leaders, activists, and CEOs to share "stories of courageous and intelligent women who are taking on the status quo in their native countries, leading peace movements in the face of war and conflict, and shattering glass ceilings in every sector."
We are thrilled to share with you that Nene Sy, a senior at TYWLS of East Harlem, was selected to play a special role in this exciting event – Nene interviewed First Lady Michelle Obama! Nene's interview will be premiered on Saturday at the summit, where she will be joined on stage by Ann Tisch. Legendary ABC News Correspondent Barbara Walters will moderate and interview Nene about her experience at the White House. To learn more about Nene and the interview, please click here to read an article on The Daily Beast and here to watch the full interview!
Nene, who will soon become the first in her family to attend college, turned a family tragedy into inspiration. When she was 11, Nene's mother delivered twins prematurely. Both twins eventually died, but Nene says the time she spent in the hospital watching doctors try to save the babies and help her family inspired her to become a surgeon. Nene, whose favorite subjects are math and science, is headed to Gettysburg College on a full scholarship next fall, and plans to undertake pre-med studies. Both her parents are from Mali; her father is a taxi driver.
We are proud of Nene for representing TYWLS in her conversation with the First Lady!