Ann Rubenstein Tisch
OUR FOUNDER  
Ann Rubenstein Tisch is the founder and president of Student Leadership Network (SL Network), an organization that operates The Young Women's Leadership Schools (TYWLS), a network of all-girls public schools, and CollegeBound Initiative (CBI), a coed college access program.
A native of Kansas City, Missouri, Mrs. Tisch began a 19-year career in broadcast journalism at WIBW-TV in Topeka, Kansas.  She then moved to WCOO-TV in Minneapolis, Minnesota, and later joined NBC Network News as a national correspondent, where she developed a strong interest in educational issues. After covering dozens of education stories for the network and reading and studying data on single-sex education, she was inspired to create an all-girls inner-city public school to serve disadvantaged families. In 1996, with the unanimous approval of the New York City Board of Education, Mrs. Tisch turned her idea into a reality and opened TYWLS of East Harlem – the first public all-girls school to open in the United States in 30 years. Her vision was to provide students growing up in low-income communities a high-quality college preparatory education modeled on the finest private schools.
SL Network now oversees five high-performing schools in New York City, impacting more than 2,500 students.
The success of TYWLS has inspired more than a dozen single-sex schools to open nationwide, including affiliates in Illinois, Maryland, Missouri, New York, North Carolina, and Texas. Shortly after TYWLS of East Harlem opened, CBI was created to provide comprehensive college guidance programming. CBI now impacts more than 18,000 students in low-income communities at 32 high-need public schools in New York City.
Mrs. Tisch was educated at Washington University in St. Louis, where she graduated summa cum laude with degrees in psychology and sociology. She currently serves as a trustee on the Board of Washington University in St. Louis. She also serves on the Dean's Council of The New York University Tisch School of the Arts and is a trustee of the Center for Educational Innovation. She consults with many school districts and parent groups across the country about creating schools similar to TYWLS.
Board of Directors
Jennifer Powers, Board Chair
Jennifer Powers joined Student Leadership Network's Board of Directors in 2012 and was elected Board Chair in 2015.  Her leadership has been critical to our organization's growth financially and strategically.  She believes passionately in equity for all students, and as a graduate of a women's college, has personally experienced the benefits of a single-sex education.
Ms. Powers joined Global Infrastructure Partners in 2017 as a Partner and Chair of GIP Credit. She focuses on the strategic direction of GIP's credit business with aim to expand and build out GIP's credit business into one of the market leaders in infrastructure debt financing.
Prior to joining GIP, Ms. Powers was co-head of Investment Grade Debt Capital Markets at Mizuho Bank. Prior to Mizuho, Jennifer was a founding member of the Royal Bank of Scotland's Credit Markets Business. Ms. Powers also spent 12 years in the energy investment banking and capital markets teams at Credit Suisse. She has extensive experience and client relationships, having spent her career advising and financing clients in the energy and broader infrastructure sectors. Ms. Powers has played a lead role in over $60 billion of infrastructure debt financings. Ms. Powers holds a B.A. in Economics (Phi Beta Kappa and magna cum laude) from Barnard College and is based in New York City.
Ann Rubenstein Tisch, President
Andrew H. Tisch, Vice President
Brad Ruskin, Treasurer
Debra A. Lewin, Secretary
Judith Fishlow-Minter, Board Member
Stephanie Drescher, Board Member
Lindsay Gruber Dunham, Board Member
Gertrude Erwin, Board Member
Seymour Fliegel, Board Member
Lora Giampetruzzi, Board Member
Karen Mitchell, Board Member
James Montoya, Board Member
Maria Cristina Gonzalez Noguera, Board Member
Jeanne Nowaczewski, Board Member
Phebe Farrow Port, Board Member
Valerie Radwaner, Board Member
Laura K. Ross, Board Member
Richard Sarnoff, Board Member
Romita Shetty, Board Member
Staff Leadership
Yolonda Marshall, Chief Executive Officer
Yolonda Marshall has committed more than 11 years of her life working to ensure that children growing up in low income communities across the country receive the education they deserve.  She is Student Leadership Networks first ever Chief Executive Officer charged with overseeing the management of the organization's $11M budget, leading the implementation of the organizations strategic direction, operations and ensuring that the organization is a great place to work and grow.
Prior to joining Student Leadership Network, Mrs. Marshall served as the Deputy Chief Officer, Regional Programs for New Leaders; an organization whose mission is to ensure high academic achievement for all children, especially students in poverty and students of color, by developing transformational school leaders and advancing the policies and practices that allow great leaders to succeed.  In this role, Mrs. Marshall was responsible for managing a team of Executive Directors who led all local program implementation, client engagement and management of 70+ staff across the country.
Mrs. Marshall began her education non-profit career with Teach For America where she held a number of leadership roles on their national development and human assets team, and also served as Interim Executive Director of the Greater Philadelphia region. Prior to joining Teach For America, Mrs. Marshall had a 14 year career with Showtime Networks Inc where she honed her sales and marketing skills, provided strategic direction to the nation's top cable companies and managed a team of marketing specialists that created and executed comprehensive marketing plans to help launch critically acclaimed and Emmy award winning programming.
Mrs. Marshall received her BS degree in Marketing from Tuskegee University and her MBA with a concentration in Marketing and Media Management from Columbia Business School.
Jon Roure, Executive VP & Chief Innovation Officer
Jon Roure is the Executive VP & Chief Innovation Officer (CIO) for the Student Leadership Network. As the organization's first CIO, Jon will oversee program planning and implementation across the network. He continues to provide overall leadership to the CollegeBound Initiative (CBI) while developing three work streams that support the organization's strategic planning efforts. This includes increased focus and programming around alumni engagement, research and evaluation, and national expansion via Young Women Leadership Network Affiliate Schools.
Prior to this year, Jon served as the Senior Managing Director of the CollegeBound Initiative (CBI) for many years and totals more than 19 years of college counseling and management experience in both the higher education and nonprofit sectors. Jon began his career at Columbia University as an Early Intervention Initiative Coordinator for the Double Discovery Program and a College Advisor for Columbia's Higher Education Opportunity Program (HEOP). In 2001, Jon was hired by the SL Network (formerly Young Women's Leadership Network) as one of four inaugural counselors to pilot the CBI in some of New York City's Title 1 public high schools.  He served as a CBI Director of College Counseling at Health Opportunities High School for almost five years where he worked to build a college-going culture with its families, faculty, and staff that helped guide nearly 400 students to college.
Jon holds a B.A. in Sociology (1998) with a minor in Professional Youth Work from Rutgers University and an M.A. in Student Personnel Administration (1999) from Teachers College, Columbia University.  He is a proud alumnus of the Educational Opportunity Fund Program (EOF) at Rutgers University and is an example of what opportunity and access to higher education can do for first generation and low-income students.
Rob Robinson, Senior Managing Director, Programs and High School Partnerships
Robert Robinson is the Senior Managing Director of CollegeBound Initiative (CBI). Prior to joining Student Leadership Network's central office team in 2008, he served as Director of College Counseling for CBI at two Brooklyn high schools: Juan Morel Campos and Middle College High School at Medgar Evers College. As a college counselor, Robert worked primarily with first-generation, low income students of color with the goal of preparing them academically and financially for college enrollment. Before joining CBI, Robert served as an Assistant Director of Undergraduate Admissions at his Alma Mater, New York University (NYU) for nearly four years where he worked specifically with the Higher Education Opportunity Program (HEOP) in an effort to increase minority and financially disadvantaged student enrollment.
Robert received both his Bachelor of Arts in Computer Science and his Master of Arts in Higher Education Administration from NYU.  He has also spent a summer in South Africa where he had the opportunity to study higher education and social reform. Robert prides himself on being an active member of his community.  He has volunteered with various non-profit organizations such as Grand Street Settlement and Publicolor. As a member of the New York State Association for College Admissions Counseling (NYSACAC), he has served as a Conference Presenter, Workshop Moderator and Planning Committee member. He has also served as a Summer Institute Mentor where his responsibilities included training new high school and college admissions counselors.
Michell Tollinchi-Michel, PhD, Managing Director, The Young Women's Leadership Schools (TYWLS)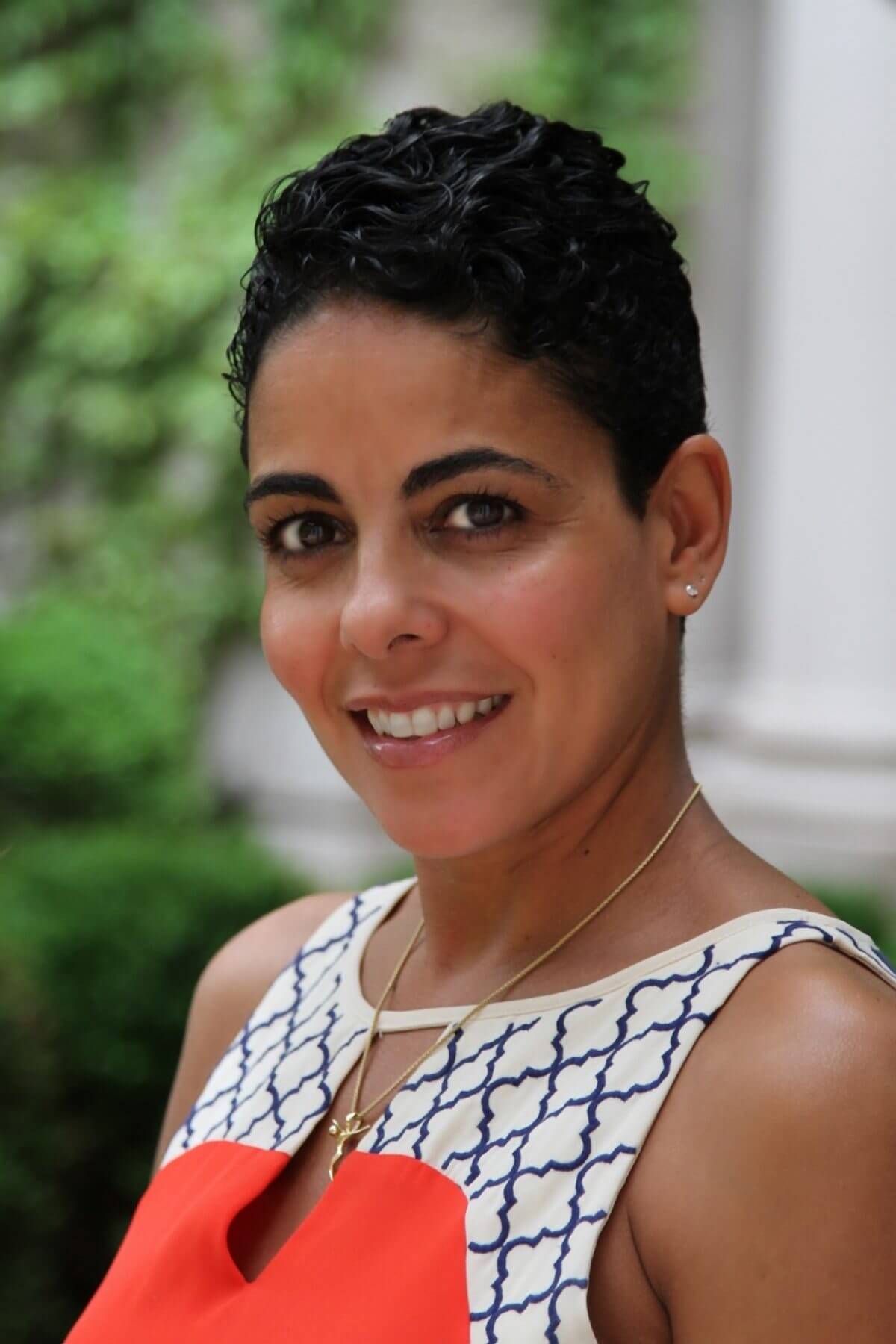 Dr. Tollinchi-Michel is the Managing Director of the Young Women's Leadership Schools. She manages and informs program budgets, while assessing the impact our programs and external partnerships have on the success of our students and schools.  She manages and leads the Girls Education New York central team to achieve program outcomes and support best practices across our school network.  In addition, she serves as a partner to the principals supporting their schools in the areas of: Early College Awareness, Leadership, STEAM, and Health and Wellness.
Prior to joining the Student Leadership Network, she served as the Assistant Vice President for Student Transitions at Rensselaer Polytechnic Institute (RPI).  Dr. Tollinchi-Michel collaborated with community partners to ensure high quality programs and services that contributed to the successful transition of students from pre-college through graduation.  At RPI, she had direct oversight over the Office of the Registrar, Office of Career and Professional Development, International Student Services, Multicultural Programs, and The Arch (Experiential Learning) Program.  Before heading to Troy, NY, Dr. Tollinchi-Michel spent 10 years at Barnard College where she served as the Associate Dean for Academic Enrichment and Community Initiatives at Barnard College, Columbia University, where she was primarily responsible for the oversight of access and opportunity programs for a diverse student population.  Additionally, she worked in collaboration with various departments and units, Barnard faculty and the local Harlem Community to continue to provide opportunities that will enrich and complement the lives of all students with a particular emphasis on underrepresented minorities and first generation students. Prior to Barnard, she served as the Director of the Gateway Academy at the City College of New York, where she led advising initiatives and programs for students who had not declared a major.  Before City College, Dr. Tollinchi-Michel spent 6 years at Fordham University where she led the Collegiate Science and Technology Entry Program (STEP/CSTEP).  During her time there, she assisted in the creation of the first CSTEP Summer Program for incoming freshmen interested in STEM and the health professions.
Dr. Tollinchi-Michel is a product of the Puerto Rican community and the Bronx, New York; she is the only member of her family to attend and graduate from a four-year college. She received a BA in Psychology and Spanish from the State University of New York at Albany, a Master's of Social Work from the University of North Carolina at Chapel Hill, and she attended Fordham University where she obtained her PhD in Social Services.  Her research there was focused on college persistence among Latina undergraduate students. Dr. Tollinchi-Michel has dedicated her career and life to supporting minority and women students who strive to achieve their full potential, no matter what their backgrounds.
Laura Rebell Gross, Managing Director, Young Women's Leadership Network (YWLN)
Laura Rebell Gross is the Managing Director of Girls' Education for the Young Women's Leadership Network (YWLN), which serves more than 8,000 girls through five New York City-based all-girls' public schools and thirteen national affiliates. As a leader in the education field for the last fifteen years, on a daily basis Ms. Gross implements a vision for developing innovative programs that enrich girls' lives, create experiential leadership opportunities, and build a path to college.  Ms. Gross' expertise is widely recognized and she has been honored by Jewish Women International and The Center for the Women of New York. She is a national speaker and expert on Girls' public education.
To impact the lives of girls beyond New York City, Laura co-founded the Young Women's Charter Prep School of Rochester, a public school serving low-income girls, and takes the lead in identifying and establishing new school affiliates nationwide. Notably, Ms. Gross' path to leadership started as a public school teacher, including serving as an English teacher at YWLN's flagship school in East Harlem for six years.  Ms. Gross earned a BA from Tufts University, an MAT from Brown University, and has completed coursework toward an Ed. D. in Curriculum and Teaching at Teacher's College, Columbia University and the Warner School, University of Rochester.
Funmilayo Brown, Managing Director, Development
Funmilayo Brown serves as the Managing Director of Development. Upon earning her BA from Oberlin University in 1997, Funmilayo began her career in development at New York Presbyterian Hospital in the annual fund and then in major gifts. After five years in the role, Funmilayo pursued her MPA in Financial Management at NYU's Wagner School of Public Service. Wanting to deepen her financial acumen, Funmilayo transitioned to the private sector and joined JPMorgan as a VP, Financial Investment Advisor.
In 2011, Funmilayo joined Choices in Childbirth (CiC) as its Executive Director (ED), returning to her passion of serving women and children. As ED, she scaled the organization's startup budget by 40%, established an individual giving program, and re-shaped programming, positioning the organization better to receive grants. Funmilayo also worked with the founder and board of directors to help the organization systematize its operations. In 2012, she transitioned to Carter Burden Center for the Aging (CBCA) as its Director of Development. Funmilayo developed and led a strategic fundraising plan that enabled CBCA to scale its budget from $4M to $7M in three years. Most recently, Funmilayo served as the Chief Advancement Officer at Shining Hope for Communities (SHOFCO), where she led the organization's external relations, development, partnerships, and expansion, enabling the organization to double its budget from $3.4M in 2015 to more than $7M in 2017. Funmilayo has a deep passion for Student Leadership Network's mission and focus on gender equality, and firmly believes equalizing education is key to disrupting the cycle of poverty.
Meg Kayman, Managing Director, Finance and Administration
Meg is the Managing Director of Finance and Administration and has been with the organization since March 2009.  During that period, the organization has grown from a budget of $3.5 million to the current $11.0 million.  She is part of the Administration Team which is responsible for building infrastructure to support the growing needs of the organization.
Prior to Student Leadership Network, Meg worked in the Financial Services Industry including positions as an equity research analyst at Goldman Sachs and a senior research analyst at General Electric's Commercial Finance Division.  She also has been an active volunteer with numerous non-profit organizations and a board member of the HIV Law Project from 2005 to 2013.  She holds a B.A. in Hotel, Restaurant and Institutional Management from Michigan State University and an M.B.A. in Finance from New York University.
Our Team